More than 2300 students graduate in May 2023 at Ton Duc Thang University
On May 18, 2023, Ton Duc Thang University (TDTU) solemnly held the Graduation Ceremony of May 2023 phase for 147 new masters and 2,192 new bachelors, engineers, architects, and pharmacists. Among them, 267 students graduated with excellent result, graduated ahead of schedule, and achieved English outcomes with high scores.
Speaking at the ceremony, Dr. Tran Trong Dao - President of TDTU thanked the parents for always accompanying the University, creating conditions and encouraging the students to strive and achieve high results in study, research and training. He also expected new masters, bachelors, engineers, architects and pharmacists to be proud of their achievements, continue to nurture their passion, maintain their faith and bravery to seize opportunities to master their life and contribute to society.
Representing nearly 2,300 graduates, new bachelor Duong Ngoc Lua from the Faculty of Foreign Languages, graduating with Very good classification and a cumulative GPA of 8.69 shared: "There are no words to express our gratitude to lecturers and families who have created conditions for us to study and practice at this University…" Ngoc Lua also sent a message to the new graduates that they must live and give their best, set long-term goals and plans for themselves, nurture and make their dream of being a global citizen become true.
Also as one of the new graduates with Very good classification this time, Nguyen Thi Hong Mai from the Faculty of Foreign Languages shared: "Choosing TDTU as a place to accompany and form a strong attachment to throughout the university life is the best decision in my life. I have grown up, lived more disciplined and especially integrated into the enterprise environment from an early period through the highly applicable training program of the University…"
Le Uyen Bao Ngoc from the Faculty of Environment & Labour Safety expressed: "I feel really lucky and proud to have chosen the Environmental Engineering Technology major at TDTU - one of the fields that are "thirsting" for human resources and there are not many institutions in Vietnam teaching this major. Here, I am given every opportunity to cultivate, research and improve my professional capacity, and at the same time understand the urgency and high applicability of this major to the real life…"
This graduation ceremony marks an important milestone as TDTU has trained and provided the society with more than 1,840 masters and nearly 60,000 bachelors, engineers, pharmacists and architects with high professional qualifications. This is also the pride of the entire lecturers of the University when continuously training and fostering many generations to be successful in their life.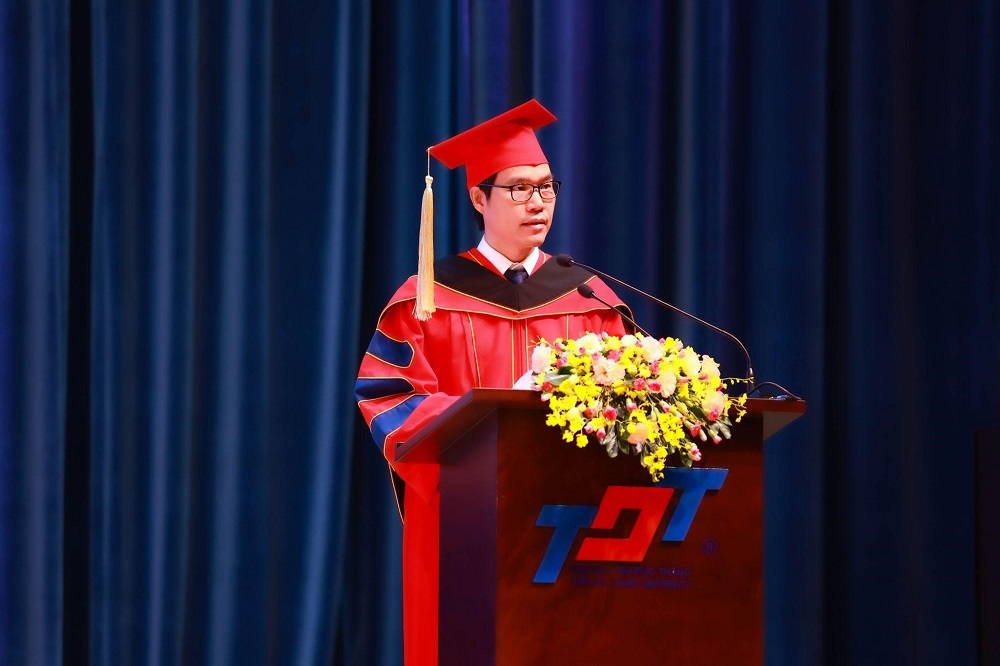 Dr. Tran Trong Dao - President of TDTU delivering his speech.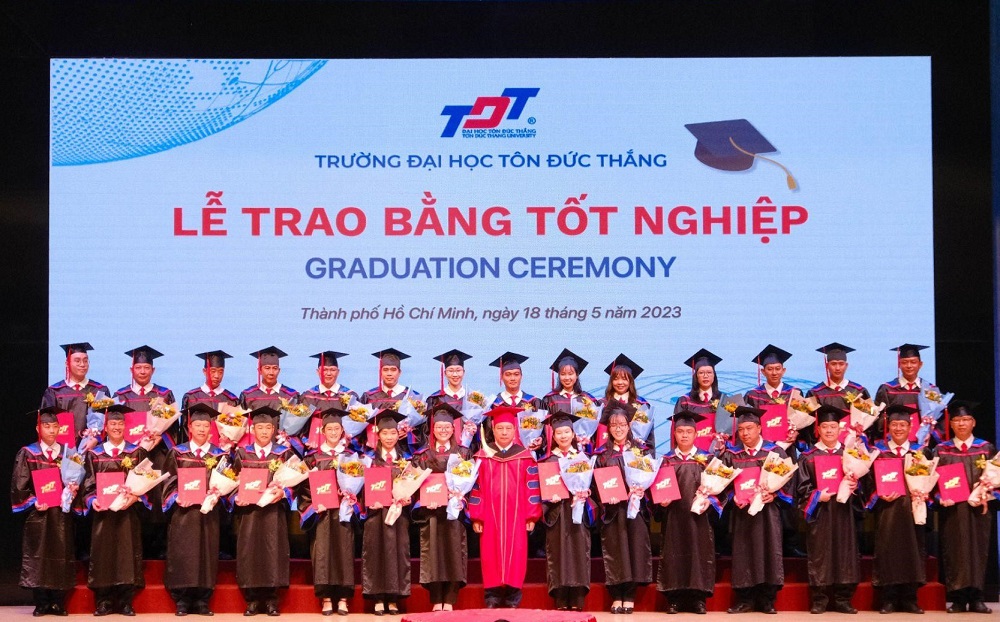 Dr. Vu Anh Duc - Chairman of the University Council in a group photo with the new masters.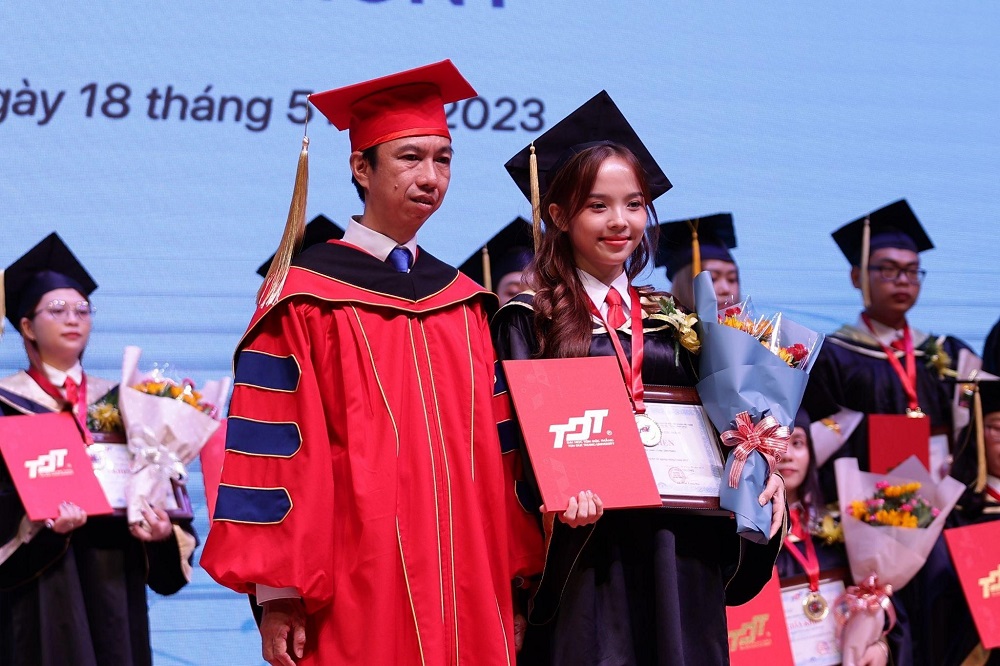 Dr. Vo Hoang Duy - Vice President awarding diplomas to new bachelors with Very good classification.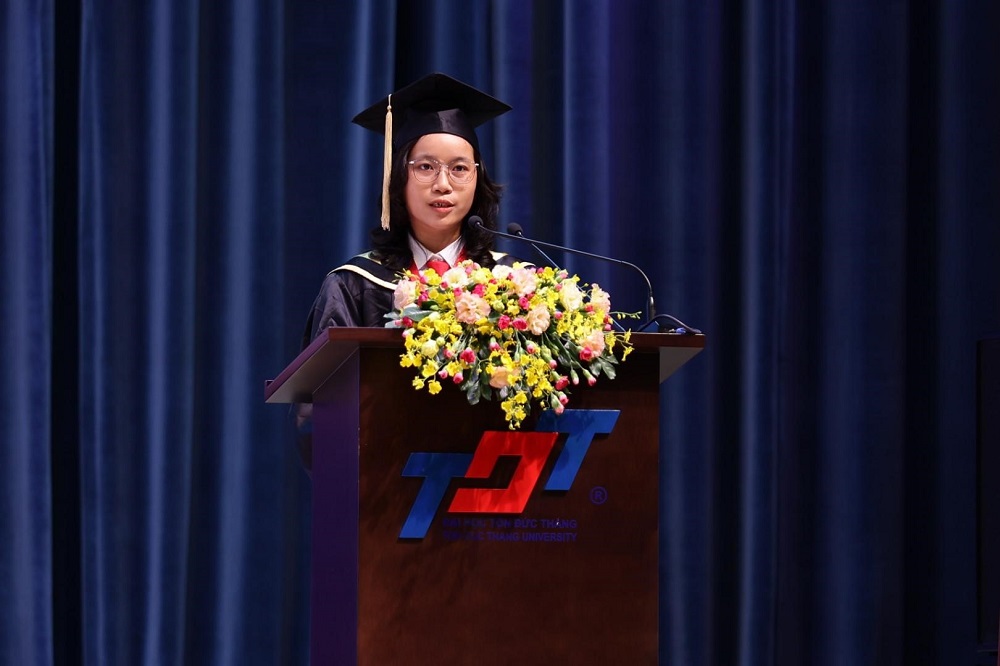 New bachelor Duong Ngoc Lua, representing more than 2,300 graduates, giving a speech.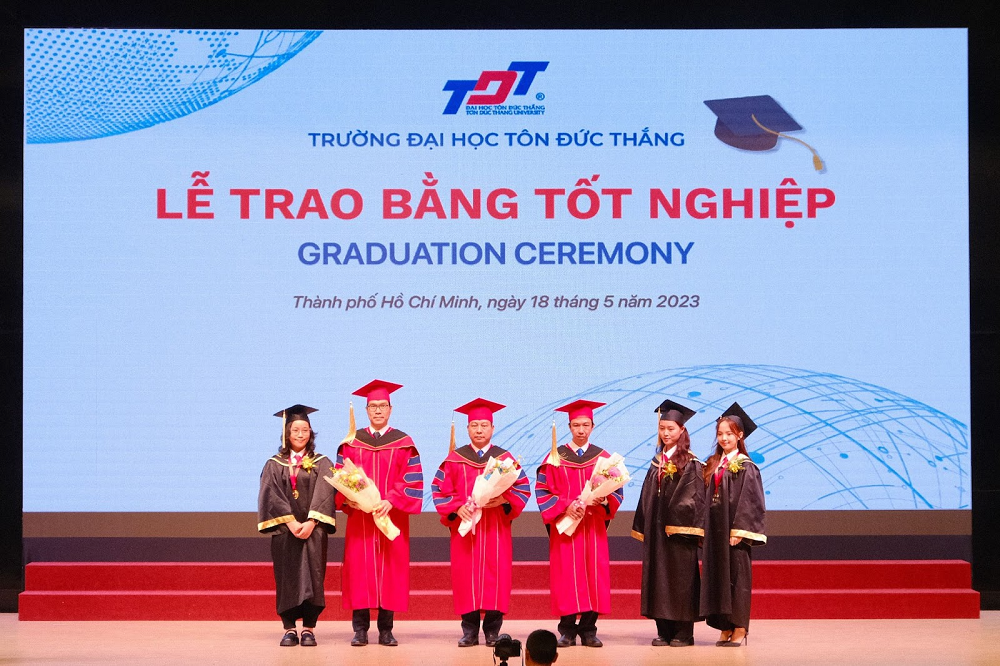 Graduates' representatives giving flowers to show gratitude to the University's leaders.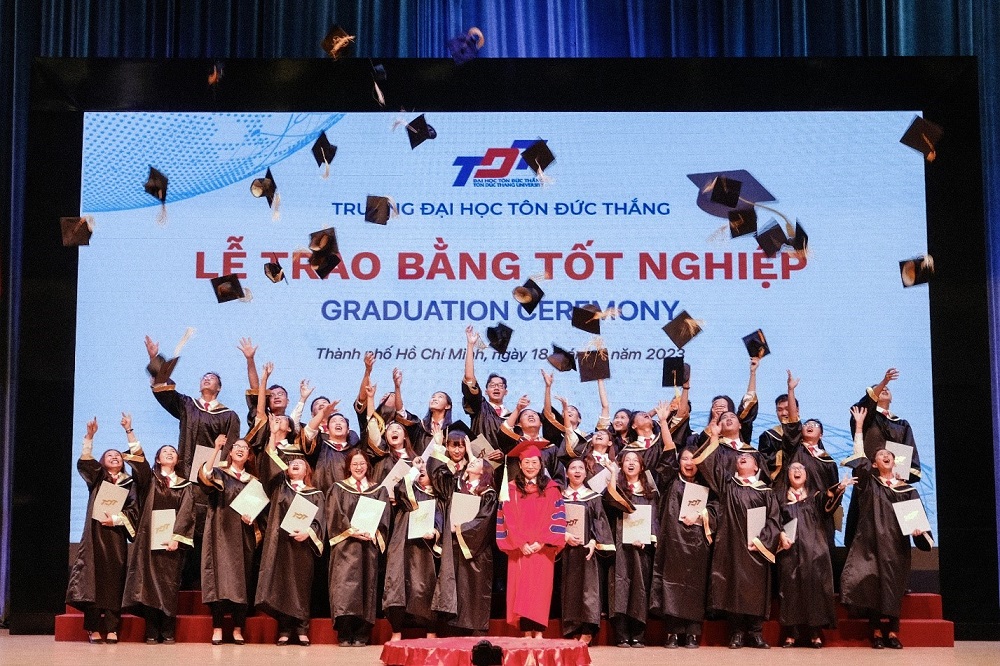 TDTU students throwing their graduation caps in the air.