Malaysian student enrolled to TDTU's Doctor program with Scholarship award in Spring Semester 2021
During the Spring Semester Admission of Ton Duc Thang University, Miss Ooi Li Win successfully is offered a full scholarship of the Doctor's program in Business Administration. She graduated and defended her master's thesis at Universiti Sains Malaysia with excellent academic achievements (GPA of Bachelor and Master studies must be above 3.6 (on the scale of 4.0). Moreover, this university is ranked in the top 1000 universities in the world, on all four rankings that TDTU requires. With her extensive knowledge of economics major as well as a graduate from a prestigious university, it has been shown that is worthwhile to grant her a full doctoral scholarship. She also shared that the moments she knew she was eligible for a scholarship, she felt extremely grateful and thankful. It is special that she knows this news on the last day of 2020, which makes her celebrate the New Year more fully and meaningfully. Besides, she also feels extremely exciting because maybe this is what changed her life. For her, "Keep trying and do not give up" is a phrase she is always pursuing to achieve her present success because "we don't know if we don't try" - she said.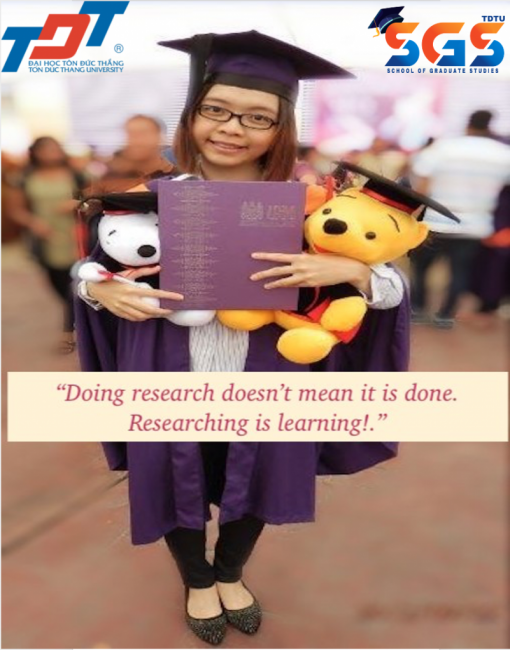 Ooi Li Win in her graduate uniform with her signature in life
During the session, Ms. Winnie continued to share about the journey to get her current works, how she started emerging at both national and international conferences. Since her Degree period, she joined a domestic as a participant, then as an organizer during her Master's study due to study assessment inquiries and, her enthusiasm for researching. After being asked about what has encouraged her to do so and she is an outstanding case to inspire other students to learn from, Ms. Winnie did not hesitate to say: "I go to conferences first, to create a network, to exchange ideas what other presenters out there say, I learn how to develop such research. Then, there are many things I have not known yet, this is a chance I can learn what software can run. There are many things to learn. Doing research doesn't mean you know everything once you continue exploring".
Having encountered her shares for inspiration, she added: "Working whatever that helps you improve, no matter about your career, your field, your amount of publication. Stick to different perspectives, learning is not stopping, there is never enough to learning, keep exploring and contributing to the academy."
Since the COVID pandemic currently restricts travel between countries, it seems to be difficult for international students to get to school. However, by applying technology flexibly to postgraduate teaching methods, TDTU will automatically deploy subjects and exchange research money via an online form for graduate students, we hope all the best come to you for next-our-year-journey.
To understand more about Miss.Win's  univeristy, we will mention some rankings THE, QS, ARWU in 2020 of USM: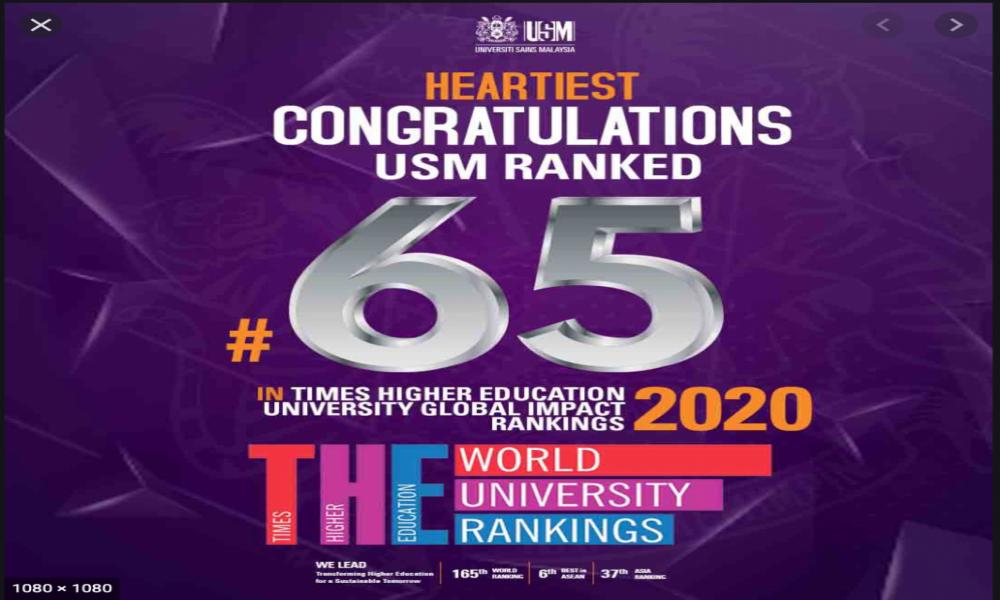 USM ranking in 2020. Photo from USM News Portal
QS rankings: The Universiti Sains Malaysia (USM) is one of the top Public universities in Nibong Tebal, Malaysia. It is ranked #142 in QS Global World University Rankings 2021.
URAP rankings: USM It is ranked #547 overall in the world and came out at #5 in Malaysia for the URAP World Ranking.
ARWU rankings: Universiti Sains Malaysia (USM) was ranked in the top 500 in the recently released 2017 Academic Ranking of World Universities (ARWU).
About Ton Duc Thang University (TDTU):
Ton Duc Thang University is a public university operated under the Vietnam General Confederation of Labour, established on September 24, 1997. In August 2020, TDTU is ranked as number 1 university in Vietnam and TOP 800 universities in the world (by ARWU).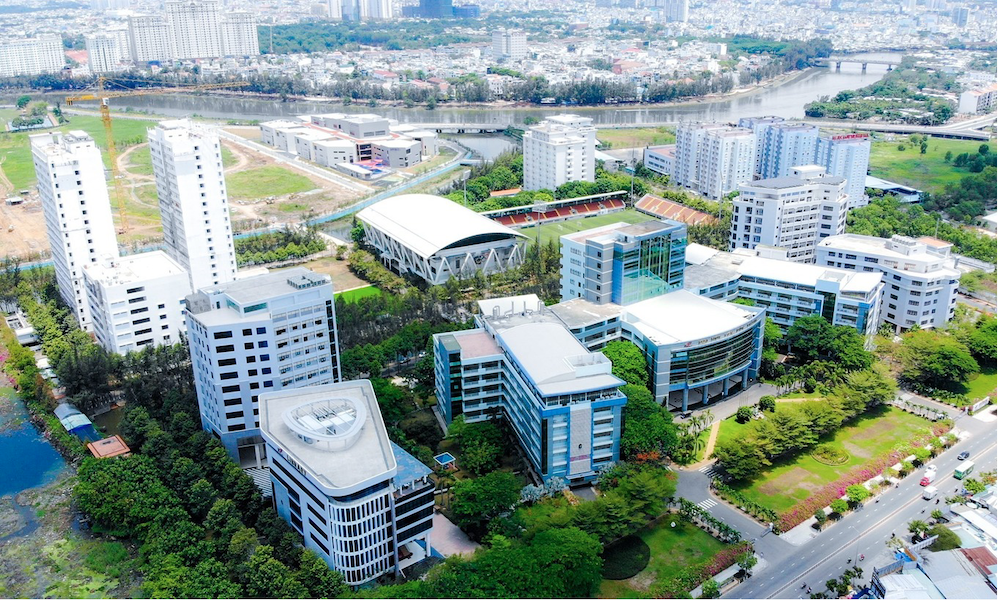 Facilities of Ton Duc Thang University's main campus in Ho Chi Minh City's District 7. Photo from the university's Facebook page.
In July 2018, Ton Duc Thang University (TDTU) became an Associate Member of ASEAN University Network-Quality Assurance (AUN-QA). In July 2019, four undergraduate programs of TDTU were successfully assessed by AUN-QA standards; the other programs of the University have already improved based on AUN-QA criteria.
On July 2nd, 2018, The High Council for Evaluation of Research and Higher Education (HCÉRES) decided to recognize that Ton Duc Thang University (TDTU) complies with French and European standards for universities.
In March 2017, Ton Duc Thang University has bestowed the certificate of ISO 9001:2015 in Quality Management, as a replacement for ISO 9001:2005 version.
On April 20th, 2016, the Vietnam Union of UNESCO Associations organized an award ceremony to present Ton Duc Thang University with an "Environmentally Friendly Campus" Certificate.